Interior Design Trends for 2014
By: Rick Hess, DI
Industry professionals at Design Institute of San Diego took a look at some design trends for the New Year relating to interior design and architecture.  We found the following to be hot items for the near future:
Color has been used for decades to add visual interest, balance, and harmony within a space. Although these are still important aspects in interior design, psychology of color may become an important design consideration for the future, why?  Once color psychology is understood, interior designers are able to positively affect an individual's mood, health, and well being.  Believe it or not, color, can actually stimulate the economy as well.  Another important trend is taking sustainability to the next level through net zero energy design, green building solutions, and improved residential construction.
Interior Design Trends for 2014
Color Theory Being Applied to Interior Design
Color in relationship to psychology and phenomenology has been studied for thousands of years. We found that interior designers are using color in a very specific way to achieve certain results. Color has always been a way to add emphasis and character to a space.  It has become more and more important in affecting the individual occupying a space.  Color affects mood, health and well being according to the Huffington Post.  Design Institute of San Diego decided to look at the three primary colors and see how these colors are being used in a way that goes beyond aesthetics.
Red
With the constant strive to boost the economy, we found more and more restaurants in 2013 using red within their designs as the color stimulates appetite and increases energy levels.
Blue
According to GlobeNewswire stress levels are up 83% in the working people of today.  Research shows that the color blue promotes relaxation and recharges the brain, while also assisting with memory improvement. Using light along with color can create this tranquil atmosphere.
Yellow
The color yellow is associated with energy and elevation of spirit and mood. Designers use yellow in a variety of spaces especially to promote the shopping experience. Research shows yellow being successfully used in retail projects to grab the shopper's attention. Seeing more of this color used in the year 2014 is certainly promising.
The Next Phase of Sustainability
There is no doubt that sustainability is of the utmost importance in the future of interior design, and 2014 has some intriguing new technologies that add to the next layer of green design for the future.
Design and Operation of Zero-Net-Energy Buildings
Architects and interior designers are competing worldwide to provide the most energy efficient structures that dominate in LEED certification and green design. The creators of these structures will offer intelligent design solutions that are zero net energy buildings, by incorporating the most sophisticated products of today.
A Living, Breathing Facade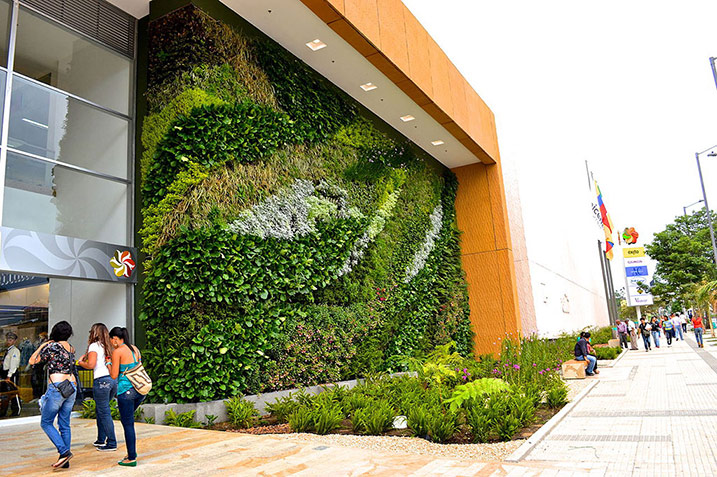 If you have read our previous blog entry on translucent concrete you know that this material has come a long way in its capabilities. Concrete can now be used as a biological layer promoting plant growth. As typical concrete PH levels are high, inhibiting plant growth, new developments are creating "the biological layer of concrete using magnesium phosphate cement that is slightly more acidic and does not require treatment to reduce its pH levels," allowing mosses and lichens to grow naturally. This advanced technology also allows the building to stay cool in warmer seasons and warm during colder seasons.
PreFab Homes
Prefabricated homes have been around since the 1940s, recently (over the last few years) with the housing crash and economic struggle; prefab homes have become quite popular. 2014 prefab homes will have additional green features and are becoming cheaper to build.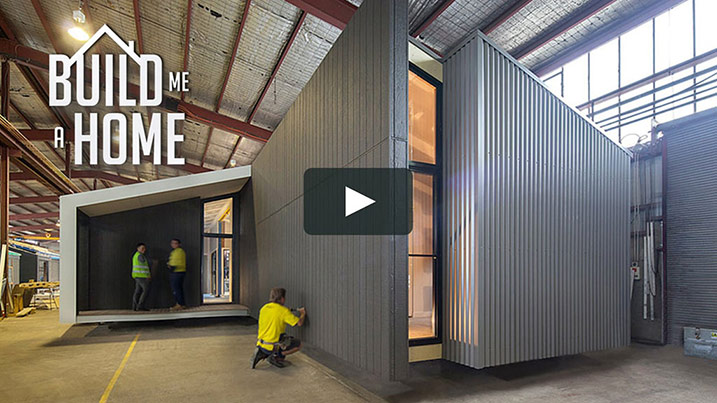 Color has entered an era of meaning and significance when applied to interior design and architecture.  With stress levels in people rising and instability within the economy, it's important to make wise color palette choices with today's projects. Sustainability has been an important issue relating to architecture and interior design and continues to make great strides with improved technology. If we as designers make the effort to understand these ideals, the creators of tomorrow have the capacity to positively affect people while making meaningful design decisions that contribute towards the better of our environment.
Sources
http://colour101.wordpress.com/2010/08/23/chromotherapy-fact-or-fiction/
http://www.archdaily.com/315453/biological-concrete-for-a-living-breathing-facade/
http://www.archdaily.com/154804/the-rise-of-prefab-design/
http://globenewswire.com/news-release/2013/04/09/536945/10027728/en/Workplace-Stress-on-the-Rise-With-83-of-Americans-Frazzled-by-Something-at-Work.html
https://edubirdie.com/blog/color-psychology
http://www.bdcnetwork.com/10-green-building-trends-2014
https://www.huffpost.com/entry/how-color-affects-our-moo_n_1114790
https://commons.wikimedia.org/wiki/File:Ecuador_vertical_ecosystem.JPG
https://vimeo.com/channels/buildmeahome01/173861990
---