Latest News on the Coronavirus
March 12, 2020 | DI In the News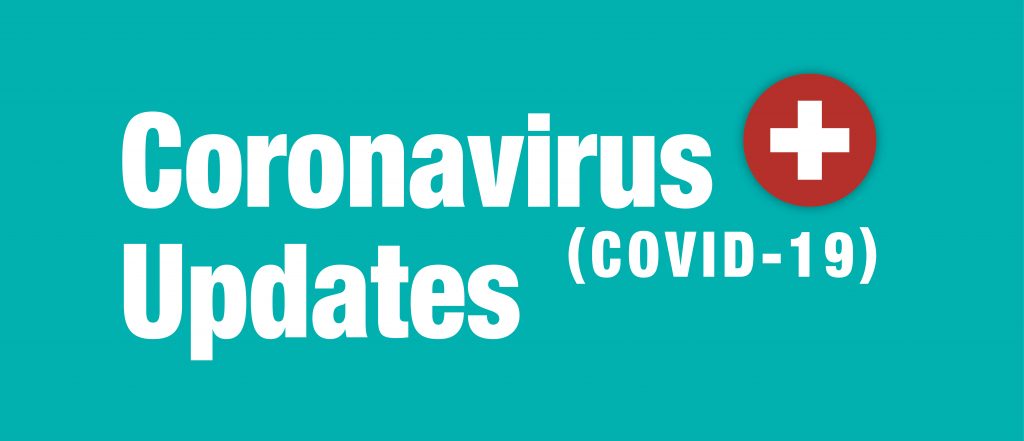 STUDENT UPDATES
March 24, 2020
Dear Students,
The last few weeks have certainly been challenging for many of us and throughout the world.  We empathize and we are here to support you the best we can while we all navigate the next several weeks together as we all stay home and do what we can to flatten the curve of COVID-19. What we do know is that no-one is immune to this and that even those that feel healthy could be transmitting this to others.  Please only leave your house if necessary! Only see friends and family members outside your home if required. The sooner we can all do our part, the sooner we can be back to campus and resume our lives.  For those of you who have family, friends or others who are battling this virus, we send positive thoughts for healing and recovery.
We continue to remain informed by your faculty and with many of you.  Many of you are settling into a routine and finding your way virtually. We know it has not been a flawless transition and we thank you for your patience and understanding.  We have also enjoyed hearing, and seeing, some of the positive aspects of remote learning, so keep sharing. We are working on some ideas to help us all stay more connected via social platforms and  Zoom, so stay tuned for more information
Updates will come out by Friday of each week going forward.  As always, please feel free to reach out to me or another member of the administration directly if you have a pressing need, or simply would like someone to help problem solve. We remain dedicated to helping all of you achieve your goals this semester.  The following information will hopefully  answer some of the most pressing questions and concerns:
Status of Spring Semester
The Spring semester will continue virtually until further notice.  Your faculty are, or have, reviewed their syllabi and are making plans to conduct classes virtually through the end of the semester. While we hope we can return to campus sooner, we feel it is best to be prepared and to set realistic expectations. We want to reiterate that if we find it necessary to offer follow-up workshops, presentations, or other ways to support student learning outcomes, we will address those as they arise and share information as we have it.  Please trust that all students will be provided with the tools to be successful and we are fortunate to be able to work one-on-one with all of you to ensure that.
Spring Break
Since we are all safer at home, we decided it was best to leave the decision about Spring Break up to all of you and your Faculty.  Assuming all students and your faculty member are in agreement, it will be up to each class individually to determine if make-up or regular classes are held.  Members of the Administration will remain available to continue providing student services and technology assistance during Spring Break. We will share a modified schedule with instructions of who to contact for what by the end of this week.
Status of Summer Semester & Registration
We hope to be back on campus by May and to conduct summer courses in person. We are developing a plan for summer classes if that is not possible.  We will update this more in the next week or so.  We are also looking at conducting registration by telephone and possibly on-line.
Financial Aid
Jackie Gloria, Director of Financial Aid, has been in touch with many of you. We are currently waiting for final emergency regulations due to COVID-19 and these will be shared shortly.
Commencement
Due to the stay at home order and the concern that large gatherings will not resume as quickly as we would have hoped we determined that it would be best to postpone Commencement until Sunday August 23, 2020. At 6:00 PM.  Graduates will arrive at 5:00 PM.  Commencement will still be held at the Natural History Museum. We will share more details with those students who were scheduled to participate in Commencement shortly.  The new date is the Sunday following the last day of the Summer semester and appears to align well with our year-round schedule.
Technology Tips
VPN – Connection issues – We understand that the VPN client for Mac is not working for all Mac users. If you need access to the files or software that you don't yet have, please let us know so that we can provide access through OneDrive.
Resources
Library Social Hour – Do you miss stopping by the Library before or after class? Please join Rebecca for Virtual Library Social Hour on Zoom every Monday-Friday from 12-1 and Monday-Thursday from 5-6. Say hi, see who else is around, chat, or work on homework in a social environment. See you there! Meeting ID: 229 738 3647 – See graphic attached
Electronic Resources – Look for an email from the Library about new online resources by the end of the week
Student Support through the IBH Assistance Program – This is a free resource offering assistance for you and your family members. If you are experiencing increased anxiety or stress, please take advantage of the free confidential counseling offered to all students through the EAP by calling 800-395-1616 or logging in to ibhsolutions.com with the username DesignISD and the password Institute
The health and well being of all of you is are primary concern.  If you become ill or need support of any kind, please feel free to reach out.
Be well,
Margot Doucette, CEO
Keep Calm as we Begin Week One of DI in the Cloud – We are Here to Support Each of You!
March 15, 2020
Dear Students,
We understand this is an unknown and stressful time.  Please try to keep calm and trust that DI faculty and staff are here to support you.  No student will be left behind during this transition or for as long as we maintain a virtual classroom.  We will work with any student individually who needs extra support, an extension in completing work, or any other circumstances during this time period. Your faculty will also be supportive and understanding.
Computers and methods for connecting to the internet are being put together for those who have requested them through the survey or directly by contacting support@disd.edu We will reach out to you individually to schedule a time to pick those up over the next few days.
Drafting tables are also being prepared and we will contact those students who have asked to check out drafting tables to set up an appointment to pick them up over the next few days.
Your incredibly dedicated and caring faculty are preparing classes as we speak. All of your faculty will reach out to each of you and you will find out the details about how your classes will be held and what modifications have been made to the modes of instruction, project requirements, presentations, exams, etc. to ensure that all learning outcomes are met.
A few questions have come up and we are preparing a list of FAQ's and answers that we will send shortly.  We can tell you that for the immediate future you will not need a printer or a plotter as we are virtual.  Additionally, materials for all classes will also be either virtual or we will ensure that mail order samples or materials will be accessible. More to come shortly.
Campus is closed to all students at this time unless they have a specific appointment, so please do not show up to campus without an appointment.
Administrative staff are continuing to work from campus for the time being and we are also preparing to work remotely and we will share more as we have it.  There will be no interruption in support from us. Each student will receive a personal phone call from a member of the administration this week and we will continue to share how we can be reached by phone and video appointment.
DI is known for putting students first and for our ability to provide individual support.  This will not change and we will work through any challenge that any of you encounter.  We ask that you trust us, communicate with us, and embark on this journey with us as we design a temporary virtual campus and complete the semester.  We are all in this together and we will emerge stronger than ever.
Stay healthy, practice social distancing, and use the lack of commute time to seek inspiration.
Be well,
Margot Doucette, CEO
General Information, technology survey, and resources for transitioning to a virtual classroom.
March 13, 2020
Dear DI Students,
The health and safety of the entire DI community is our primary focus. As you know already, beginning on Monday, March 16, 2020, our campus will be transitioning to a virtual classroom/distance education model, due to the Coronavirus (COVID-19). This is a temporary emergency measure intended to help us successfully navigate through the next few weeks and, if necessary, the remainder of the spring semester. Each faculty member is working on a plan that will allow you to continue your studies without coming to campus.
During emergencies such as this, open and consistent communication is critical and it is imperative that you read your email and respond to messages from DI and your faculty. Please know that administrative staff and faculty are here to support you, and please keep us informed about any need, accommodation, or other issue that arises so that we can problem-solve with you. Stay connected and communicate with your faculty – ask them if you have any questions or confusion about what their expectations are.
Technology Needs
You will need reliable internet service. If you don't have it, let us know and we'll help figure something out.
DI will provide needed resources to students based on this survey, and we will loan out necessary equipment if needed.
Email support@disd.edu or call us at 858-566-1200 if you have questions or need any assistance.
Accommodations
Students who currently have accommodations – we understand that you may need different or additional accommodations in a virtual environment. Student Services, Director of Student Services, will reach out to you individually next week, but please feel free to reach out to us and to your faculty right away.
Students who do not currently have an accommodation but may need accommodations for a virtual environment – please contact Tena at student.services@disd.edu now, and communicate your needs directly to your instructor as well.
As always, and very important during a virtual environment, communicate with Tena and your instructor should you need any support at any time.
Library Reference & Research Assistance
Lisa & Rebecca are currently on campus and in the library and can scan anything you need from the books and magazines.
Lisa & Rebecca are also available by email (library@disd.edu) and by telephone to help answer questions and find good online information.
Tutoring
We will work with our tutors to determine the best way to get assistance, and we will send further information about that next week.
Academic Support
 Natalia Worden, Program Director,  is also available for academic support during this time.
COVID-19 DI Webpage
Please also visit the DI Coronavirus (COVID-19) web page where we will share updates, information and resources.
The DI library page also has Virtual Classroom Support for DI Students.
Spring break is scheduled from March 30 – April 3, 2020 and we hope that face-to-face classes can resume after the break. We will let you know when your courses will resume as soon as possible.
Stay healthy and stay safe.
Margot Doucette, CEO
Information for the DI community related to the Coronavirus (COVID-19) outbreak
March 11, 2020
Due to the elevation of the Coronavirus to a Pandemic classification, as well as the intimate nature of our classrooms and campus, DI has determined that in the best interest of everyone's health and safety that we will transition to virtual instruction beginning Monday 3-16-20 until further notice.  In order to best support faculty during this transition, classes beginning today Wednesday 3-11-20 at 5:00 pm (through Friday 3-13-20) will be cancelled.
A teaching continuity plan and resources will be shared shortly. Please check your emails, website and social media regularly as we will be sharing information through these platforms. A webpage dedicated to this topic is currently under development.
The Staff will remain on campus through this week and perhaps longer as necessary to ensure a smooth transition and support of students and faculty.
Technology resource surveys will be emailed to students and faculty to ensure access to the virtual learning environment.  As always DI is committed to student success and outcomes and we will work together during these extraordinary times to meet academic and other programmatic requirements.
We ask everyone to remain calm and understanding as we navigate through this transition together.  We know you will all have a lot of questions and we will be sharing information soon.
Stay well,
Margot Doucette, CEO
Support Documents
Archived Communications
Other Helpful Links and Resources