Sustainable Holiday Gift Guide
It's that time of the year again – scrambling to find the perfect gifts for family, friends, and loved ones. Wouldn't it be wonderful to touch people with a gift this year that shows we care about the planet, too? This year, Design Institute of San Diego has curated a guide to sustainable gifts that includes, budget-minded stocking stuffers, eco-friendly corporations and a must-read book list to get your planning (and shopping) started!
Budget-Friendly Stocking Stuffers
1. Socks that Plant Trees
These are the socks that keep giving! Socks are always a go-to stocking stuffer. This year, why not give socks that will make a difference? For every pair of these socks bought, ten trees will be planted by Trees for the Future, a non-profit that is focused on ending hunger and poverty by training farmers to regenerate their lands and help communities across sub-Saharan Africa. Go to The Uncommon Goods to learn about the work they do and see how your purchase is helping.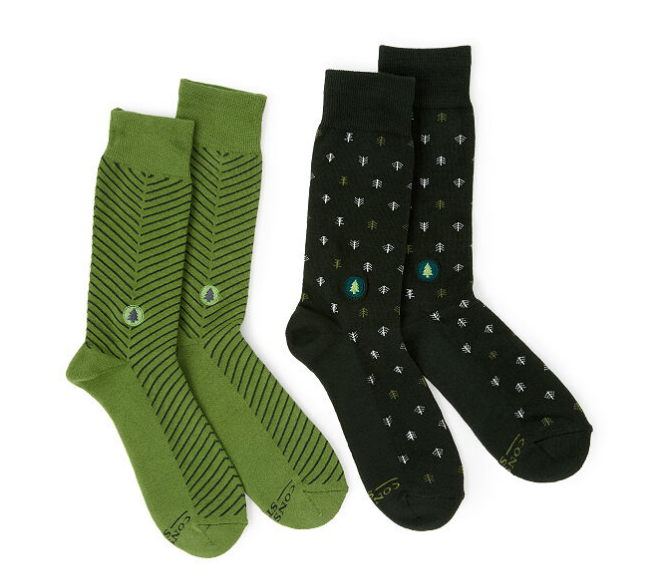 2. Reusable Sandwich Bags
Help them pack their lunch in style! It is time to move away from plastic sandwich bags and make the move to reusable sandwich bags. If they want to add some meaning to the chore of packing a lunch for school or work, this is the perfect start to help them live an eco-friendlier lifestyle. These sandwich bags are dishwasher safe and made from a food-safe fabric. Choose from many cool designs!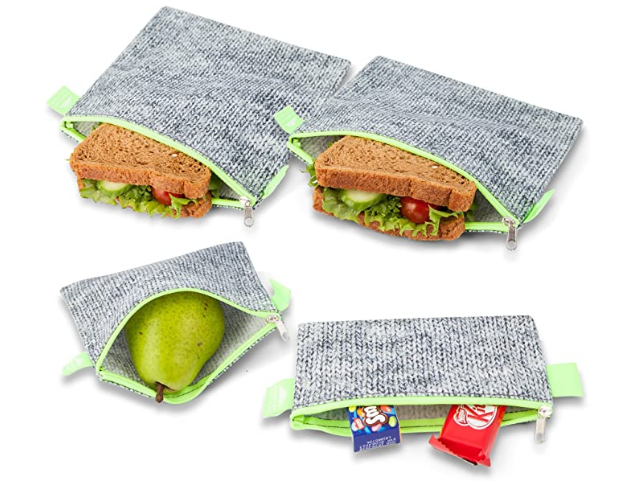 3. Plant your Pencil!
Do you need ideas for sustainable drawing and writing? We've got you covered with Plant Your Pencil. This pack of color and graphite pencils comes with seeds in eco-friendly wood. Each pencil contains seeds for a different plant. When your pencil is too short to use anymore, plant it and watch your herbs grow. These pencils are non-toxic, biodegradable, and made from sustainably sourced materials. A perfect stocking stuffer!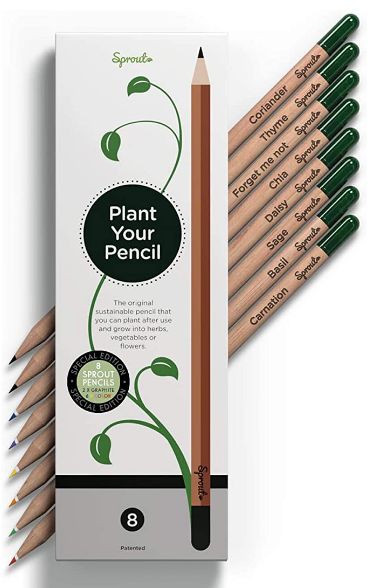 4. Decomposition Notebooks
Go green by using paper that is made from 100% post-consumer-waste recycled paper. This decomposition notebook has so many unique designs to choose from! We are sure you will find a notebook you will love for school or work.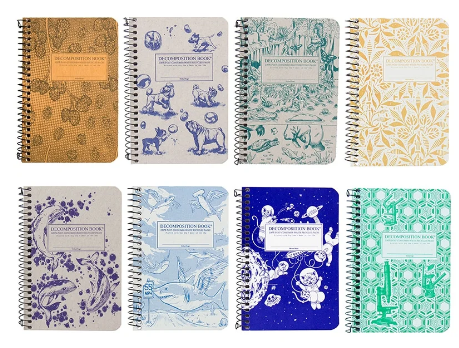 5. Bamboo Straws
Bamboo straws are the perfect reusable straws for any type of drink! Plastic straws are a huge threat to marine life. Save a turtle and give bamboo straws – made to last but meant to biodegrade.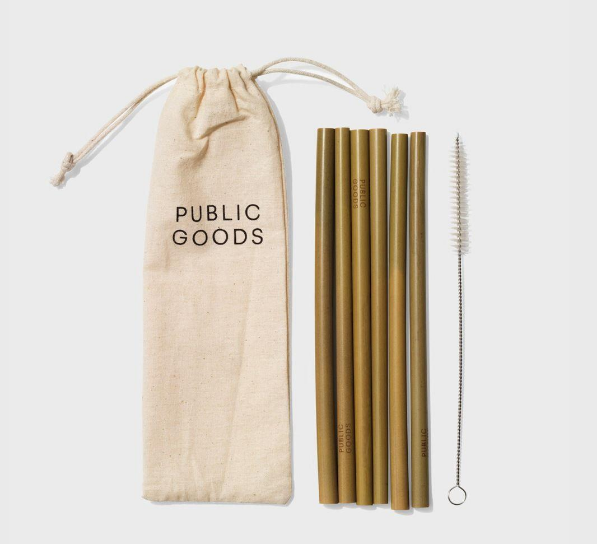 Sustainable Gifts
1. Glow and Grow Candle Herb Planter kit
Burn your candle and then plant your herbs! This is a great gift for any candle or plant lover out there. The Glow and Grow Candle includes a ceramic candle vessel that turns into a planter after the candle has burned down. The candle will burn a refreshing blended scent of basil, ginger, and lemon zest. When you are done burning, simply start growing your basil!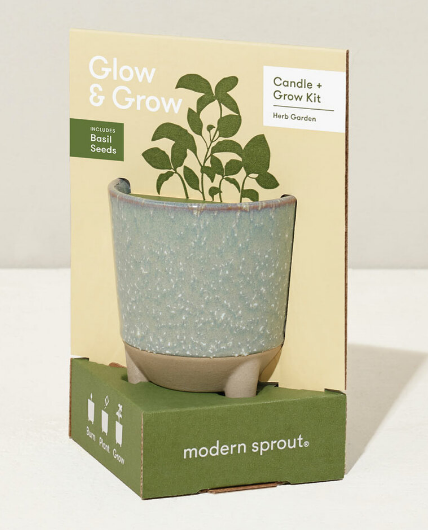 2. Biovessel – Eco Living Composter Powered by Food Waste
Powered and inspired by nature! Biovessel is an indoor ecosystem that is designed to deal with your kitchen waste. This Eco Living Composter will bring nature into your home and turn waste into nutrients that feeds new life!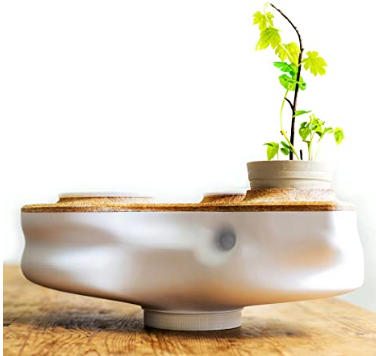 3. Grove subscription
The perfect gift if you are trying to create a more sustainable home. Grove has more than 2,000 home products that will be life-changing for you and your home. There are a few different subscriptions you can choose from. Learn more about Grove here!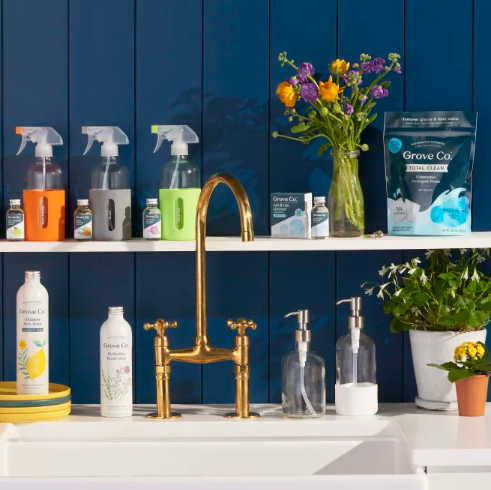 4. Pela Case
This case protects your phone and the earth by reducing carbon emissions, using less water, and producing less waste in its manufacturing process. Pela Case is the world's first compostable phone case! There is a case for any phone user – a case truly made for the environment. Pela also offers iPad cases and Apple Watch bands.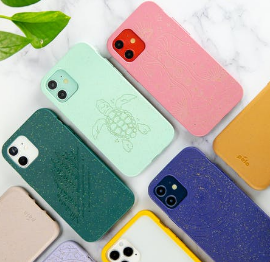 The best wrapping paper to wrap your presents with!
Wrappily
Wrap your presents the right way! Wrappily is wrapping paper that is 100% recycled and compostable newsprint. Choose from a ton of different styles for this holiday season!
Other Gift Ideas
Are you still unsure what to give this holiday season? We found some Certified B Corporations that are rated very high in sustainability. Certified B Corporations are businesses that meet the highest standard and make sure the community is working towards a healthier environment. Here are a few online stores we think you might enjoy.
Apparel:
OluKai- Who doesn't love cozy slippers? OluKai is a Certified B Corporation, and they work to leave the smallest footprint possible.
Patagonia- We have all heard amazing things about Patagonia. There is a reason for this. Patagonia was awarded Best for the World by B Corps this year. They make it very easy to support them with the highest quality materials that are the best for the environment.
Home & Personal Care:
Bliss – Clean, cruelty free skincare and personal care products
Arbonne– Personal care, beauty and wellness products
Books
When in doubt, gift a book! You can never have too many! We wanted to share the perfect books for any environment lovers looking to make a change in their life and in the world. Books are treasures of knowledge that designers love to use to enrich home and office interiors. Here are some books we think you will love.
Zen and the Art of saving the planet– by renowned spiritual leader Thich Nhat Hanh, now in his nineties and continuing to give us insights for a peaceful and harmonious life. Learn how to be the change we truly want to see in our world.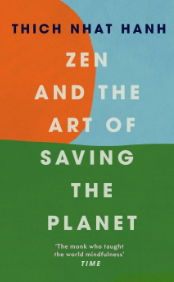 No More Plastic– by Martin Dorey, a self-described "writer, camper van owner, surfer, and anti-plastic campaigner." Discover how you can save the planet from plastic. Quick and easy solutions to do something good for the earth.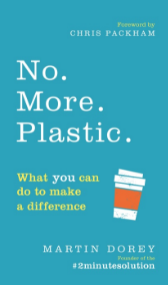 Loved Clothes Last– by Fashion Revolution activist Orsola de Castro. If you love fashion, this is the perfect book for you. Learn how you can make a difference for the environment with your clothes.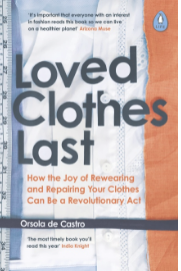 The Green Edit: Travel– by Juliet Kinsman, the founder of Bouteco, a curation of boutique hotels making positive change for their communities and the world. Explore the world but make it eco-friendly!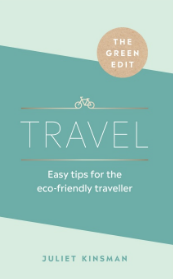 The Green Edit: Home– by Kezia Neusch, who has been blogging her low-waste and low-impact lifestyle to 60k followers since 2013. If you are more of a homebody, this book in the green edit series is perfect for you. Learn how to have a happy and healthy home for you and the environment.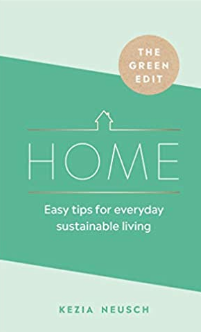 If you enjoyed this sustainable gift guide list, check out this Creative Gift Guide for more ideas. We are sure these guides will help you find the perfect gifts to give this holiday season! 
---