Where Will the Summer Take You?
June 11, 2019 | DI In the News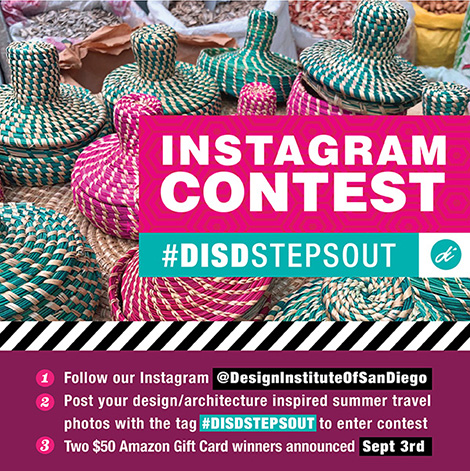 Just like summer, Design Institute of San Diego's annual Instagram summer contest #DISDStepsOut is back! Summertime is the perfect season for travel and sightseeing. As designers or just lovers of great design, we want to see the wonderful architectural landmarks, fabulous interiors and inspiring artwork you encounter during your summer adventures. Share your photos on Instagram with us and you might just be one of two lucky winners of a $50 Amazon gift card! Here's how to participate in our summer contest:
If you're not already following us on Instagram, that's the first step! Find us at designinstituteofsandiego.
Keep us in mind when you're strolling through your own city or visiting someone else's. Take photos of notable buildings (museums, residences, high rises, etc.), great furniture by awesome designers, amazing scenic views…anything design and art related to keep you (and us!) inspired. Then make sure to use the hashtag #DISDStepsOut. We'll be looking through photos and at the end of the week, the photo with the most likes will be entered into a drawing. At the end of the contest period, we will randomly select two winners to receive one $50 Amazon Gift Card each! It's that simple.
This contest is open to everyone on Instagram. If you are a DI student, graduate or just someone who appreciates great design, you are welcome to participate! Sorry, your photo cannot be considered if your Instagram profile is set to Private. The contest will run between now and August 30, 2019 and winners will be announced on Tuesday, September 3rd. For more information, read the complete contest rules below.
So what are you waiting for? Start snapping those photos and hashtagging. We're excited to see where the summer takes you!
Official Contest Rules – DI Steps Out – Design Institute of San Diego, Inc.
NO PURCHASE NECESSARY TO ENTER OR WIN. VOID WHERE PROHIBITED.
Eligibility: Design Institute of San Diego's Steps Out Instagram Contest (the "DI Contest") are open only to individuals who are legal residents of the fifty (50) United States and who are at least eighteen (18) years of age as of the date of entry. Employees of Design Institute of San Diego (the "Sponsor") and their immediate family members and/or those living in the same household of each are not eligible to participate in the DI Contest. The DI Contest is subject to all applicable federal, state and local laws and regulations. Void where prohibited. Any entry information provided by children under the age of eighteen (18) will be considered an invalid entry and will be destroyed immediately in accordance with the requirements of the Children's Online Privacy Protection Act.
Sponsor: The Sponsor of the DI Contest is Design Institute of San Diego, 8555 Commerce Avenue, San Diego, CA 92121.
Agreement to Rules: By participating, entrants agree to be fully unconditionally bound by the DI Contest Rules (the "Rules"), and represent and warrant that the entrant meets the eligibility requirements set forth herein. In addition, entrants agree to accept the decisions of Sponsor as final and binding as it relates to the contents.
Entry Period: For each week that has DI Contest, the entry period will be posted on Sponsor's Instagram at # DISDStepsOut. Sponsor reserves the right to shorten or extend the contest submission period only for reasons outside its control.
Entry/Submission: During the DI Contest entry period, entrants must post a summer travel destination photo with emphasis on design and architecture and tag Sponsor's Instagram at #DISDStepsOut. Sponsor will send out email blasts and social media posts, including via Facebook and Instagram, to direct entrants to Sponsor's Instagram. Entrants can follow Sponsor's Instagram @ Design Institute of San Diego. Entrants Instagram account must be marked public or Sponsor will be unable to view entrants photo. If entrants don't already have an account, visit http://www.instagram.com to create one. It is free to create an account. Multiple entries by means of software-generated or other automated processes will be disregarded. Detection of said automated entry will lead to such entries being voided in Sponsor's sole discretion. In the event of a dispute as to any posting/tagging, the authorized account holder of the Instagram account used to post/tag will be deemed to be the registrant. The potential winners may be required to show proof of being the authorized account holder.
Prizes: No cash or other prize substitution permitted except at Sponsor's discretion. The prizes are nontransferable. Any and all prize related expenses, including without limitation any and all federal, state, and/or local taxes shall be the sole responsibility of the winner. Any and all shipping costs are the responsibility of the winner. No substitution of prize or transfer/assignment of prize to others or request for the cash equivalent by winners is permitted.
Odds: The odds of winning a gift card depends on the number of eligible entries received.
Winner selection and notification: The winner of the DI Contest for each week will be selected by relevancy to contest rules and most likes and one winner each week will then be entered into a random drawing at the end of the contest (August 30, 2019), with the winners announced on September 3, 2019. Two winners shall receive a fifty dollar ($50) Amazon Gift Card. Winners will be notified via Instagram Messenger and by Instagram Post. Entrants may not win more than one gift card per contest. If the selected winner cannot be contacted, is ineligible, or fails to claim the prize within 10 days of notification, prize may be forfeited and an alternate winner selected. The receipt by winners of the prize offered in the DI Contest is conditioned upon compliance with any and all federal and state laws and regulations. ANY VIOLATION OF THESE OFFICIAL RULES BY ANY WINNER (AT SPONSOR'S SOLE DISCRETION) WILL RESULT IN SUCH WINNER'S DISQUALIFICATION AS WINNER OF THE CONTEST ALL PRIVILEGES AS WINNER WILL BE IMMEDIATELY TERMINATED OR FORFEITED.
Terms: Sponsor reserves the right, in its sole discretion to cancel, terminate, modify or suspend the DI Contest should a virus, bugs, non-authorized human intervention, fraud or other causes beyond its control corrupt or affect the administration, security, fairness or proper conduct of the DI Contest. Sponsor has the right, in its sole discretion, to maintain the integrity of the DI Contest, to void votes for any reason, including, but not limited to multiple entries from the same computer in excess of that allowed by the Rules; or the use of bots, macros or scripts or other technical means for entering.
Release and Limitation of Liability: By participating in the DI Contest, entrants agree to release and hold harmless Sponsor and its entities including subsidiaries, affiliates, agencies, partners, representatives, successors, employees, officers and directors from any liability, illness, injury, death, loss, litigation, claim or damage that may occur, directly or indirectly, whether caused by negligence or not, from (i) such entrant's participation in the DI Contest and/or his/her acceptance, possession, use, or misuse of any prize or any portion thereof, (ii) technical failures of any kind, including but not limited to the malfunctioning of any computer, cable, network, hardware or software; (iii) the unavailability or inaccessibility of any transmissions or telephone or Internet service; (iv) unauthorized human intervention in any part of the entry process or the DI Contest; (v) electronic or human error which may occur in the administration of the DI Contest or the processing of entries; or (vi) lost, late, postage-due, misdirected, or undeliverable mail, e-mail, posting, or tag. Sponsor is not responsible or liable for: (a) any incorrect or inaccurate entry information or other errors in the printing, offering or administration of the DI Contest or in the announcement of the prizes, (b) any error, omission, interruption, defect or delay in operation or transmission at any website, or wireless calling service, interrupted or unavailable network, server or other conditions, (c) failure of any entry to be received by Sponsor due to technical problems or human error, (d) mechanical, technical, computer, hardware or software errors, malfunctions, or failures of any kind, including but not limited to failed, incomplete, garbled, or delayed transmission of entries, traffic congestion, viruses, sabotage, satellite failures, electrical outages, on telephone lines, on the Internet, at any website, or application or lost or unavailable network connections or natural disasters or acts of God or man, which may limit an entrant's ability to participate in the DI Contest, (e) communication line, hardware and/or software failures, other communications malfunctions, unavailable network connections, (f) damage to any computer (software or hardware) resulting from participation in the DI Contest, or damage to mobile phone or other PDA device, (g) theft or destruction of, tampering with, unauthorized access to, or alteration of entries and/or entry information, (h) entries which are late, lost, stolen, damaged, illegible, and/or unintelligible (or any combination thereof), or (i) any change of email address, mailing address, telephone number and/or any other contact information provided by entrant. Any expenses incurred by the entrant during the entry process are the sole responsibility of each entrant and the Sponsor will not issue reimbursement for any expenses.
Publicity: Participation in the DI Contest constitutes the winners consent to Sponsor's use of the winners' names, likeness, opinions, geographical information, and states of residence for promotional, publicity or advertising purposes worldwide in any media, in perpetuity, without further payment, consideration, review or consent, unless prohibited by law,
Privacy: Sponsor does not sell, trade, rent, or license any personal information received via entry submissions.
Governing Law: All entrants agree, by participation in the DI Contest, that the DI Contest will be governed by California law, without regard to California's choice of law rules. The courts of California, County of San Diego shall be the exclusive forum for any dispute regarding the Rules or activity associated with the DI Contest.