Diversity Expert Dr. Charlita Shelton Joins Design Institute of San Diego as a consultant to Further Diversity, Equity and Inclusion Initiatives
July 13, 2020 | DI In the News
Design Institute of San Diego (DI) is proud to announce a consulting agreement with diversity expert, Charlita Shelton, PhD, to join the DI Team in furthering diversity, equity and inclusion holistically and campus-wide.
"While diversity is welcomed and embraced in all aspects of our operations, we believe that Dr. Shelton has the experience and expertise to help us reflect, evaluate and re-commit to initiatives that will elevate diversity, equity and inclusion at Design Institute," said Margot Doucette, CEO at Design Institute of San Diego.
Dr. Charlita Shelton Joins Design Institute of San Diego as a Consultant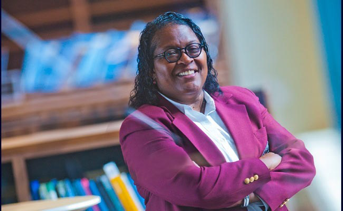 "It pleases me greatly to consult with Design Institute of San Diego on matters of diversity, equity, and inclusion," said Dr. Shelton. "The arrangement of this work exemplifies the commitment that the leadership of this Institute has undertaken, and the importance of an intercultural diverse experience for its staff, faculty, and students during this process."
While at Design Institute, Dr. Shelton will provide a full evaluation of the school's diversity, equity, and inclusion efforts and initiatives, and will develop a strategic plan for improvement.
In addition to her accolades in the areas of diversity, inclusion and equity, Dr. Shelton has an extensive background in higher education and has served as Campus President for Argosy University in Atlanta, Executive Director of the Dallas Nursing Institute, and President of University of the Rockies in Colorado. She has served in other roles including Vice President of Academic Affairs, and Organizational Diversity Officer. Currently, Dr. Shelton is engaged as a Special Consultant to the President at Gonzaga University.
Dr. Shelton gives presentations across the U.S. on topics related to structural inequality, social justice, first-generation African American college completion, women in leadership, and institutional climate. In 2014, she was appointed a visiting scholar at both the University of Bradford in England and Ankara University in Turkey. Dr. Shelton has been featured numerous times in Profiles in Diversity Journal as an award winner, including the Women Worth Watching and Diversity Business awards in 2011, and as a Champion of Diversity in 2010.
Dr. Shelton holds a Master's degree in educational administration from National University, as well as Master's and doctorate degrees in human development from Fielding Graduate University. Dr. Shelton also is a veteran of the United States Marine Corps.
Design Institute of San Diego (DI) has been educating award-winning interior designers for more than 40 years. The WSCUC- and CIDA-accredited Bachelor of Fine Arts in Interior Design degree program focuses on developing outstanding creative and technical skills. DI's 35-member faculty of top working professionals teach students to think and design critically, globally and sustainably. DI alumni include many of the region's most prominent interior designers. The Institute's Classroom Without Walls initiative gives students hands-on professional experience while serving the needs of nonprofit community service groups throughout San Diego. For more information, visit www.disd.edu and follow us on social media Twitter, Facebook and Instagram.
DI welcomes all.
The college does not discriminate against individuals on the basis of race, color, gender, sexual orientation, gender identity, socioeconomic status, geographic region, religion, abilities/disabilities, age, veteran status, ancestry, or national or ethnic origin, or other categories in the administration of educational services, policies, admissions policies, employment or employment policies, financial aid programs, or other college-administered programs and activities.