DI Student, Mary Kristofich, Wins IIDA SoCal 2020 Best of Design Scholarship
March 12, 2020 | Awards & Recognition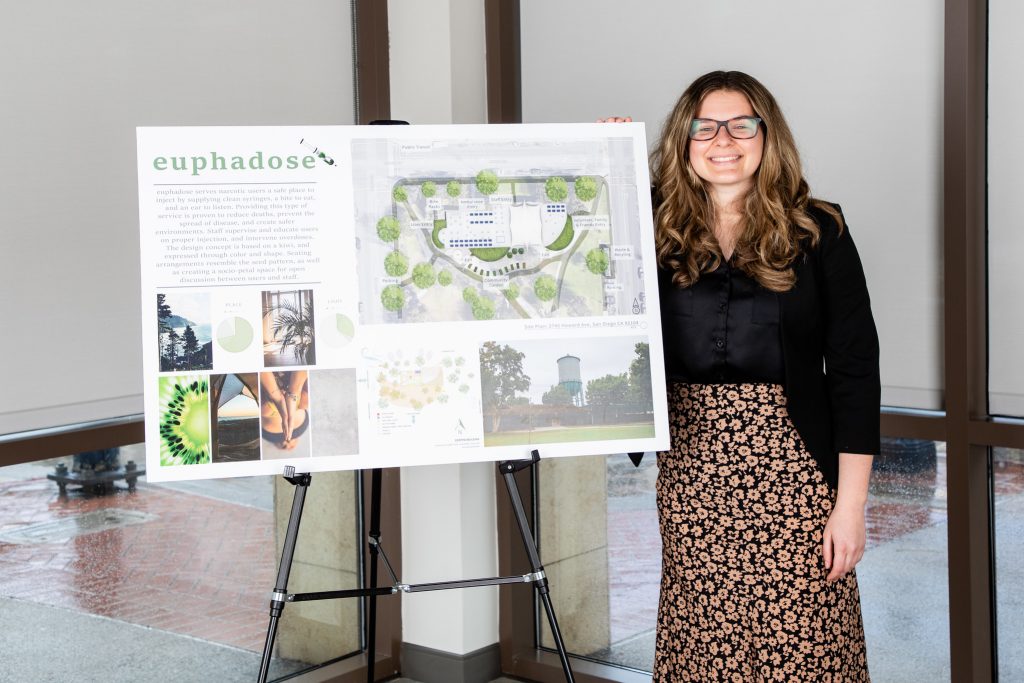 Congratulations to Design Institute of San Diego student Mary Kristofich for winning a $5,000 scholarship in the IIDA Southern California 2020 Best of Design – Student Competition. One of eleven finalists selected to present her project to the panel of judges, Mary won the Social Relevance in Interior Design category for best addressing social or cultural issues through creative design.  Her design for a safe injection facility for drug users to prevent overdose and protect the surrounding community was inspired by growing up in an area where heroin use is prevalent. The award will be formally presented at the 32nd Annual IIDA Calibre Design Awards on Friday, May 15th, 2020.
 Our Assistant Librarian Rebecca Wollner asked fourth-year student Mary a few questions about the competition. 
Can you tell us a little about your project?
During Interior Design V, we focused on institutional design and were given a site at North Park's Community Park. Being that drug addiction is an epidemic in this country, I wanted to design a safe injection facility. A hot, and controversial topic, safe injection facilities prevent overdoses, create a positive environmental impact, and protect surrounding communities. Nurses supervise heroin users during injection, intervening at any point of an overdose, or giving tips on how to properly inject to reduce harm to the body. Staff are there to listen to users, while providing resources for help. During the time of this project, this concept was being tested in various cities, such as San Francisco, Baltimore, and New York City. Just last week, Philadelphia has now opened the first official safe injection facility in the US.
I can't resist a library question. I know you did your research; were there any library resources that were particularly helpful?
Yes! Unfortunately being such a new topic, there weren't any books on the subject (yet). This led me to read scholarly articles from researchers analyzing needle exchange program statistics, and outcomes of safe injection facilities in other countries. 
I came across an article on a facility called Insite, located in Vancouver, and reached out to the architect Sean McEwan, who allowed me to conduct an interview. Besides case studies, I learned in an article on the handy DI Library database OmniFile that California had approved needle exchange programs 20 years ago. Inspired, I volunteered for San Diego's Safe Point Clean Needle Exchange Program (CSEP) located in Downtown/North Park.
Did volunteering for the CSEP contribute to your design decisions?
It did contribute to some design decisions. A woman came by to get amenities such as alcohol pads to wipe her feet. When she took her shoe off, the entire sole of her foot was peeling. We talked about how she was gifted this necklace she was wearing from Mexico. It inspired an adaptable space in the facility that can hold donation days, such as having a clothing drive. Other volunteers mentioned some of the users are on medications for illnesses such as Hep-C, and their medications are typically stolen. In turn, lockers were implemented at the entrance of the facility.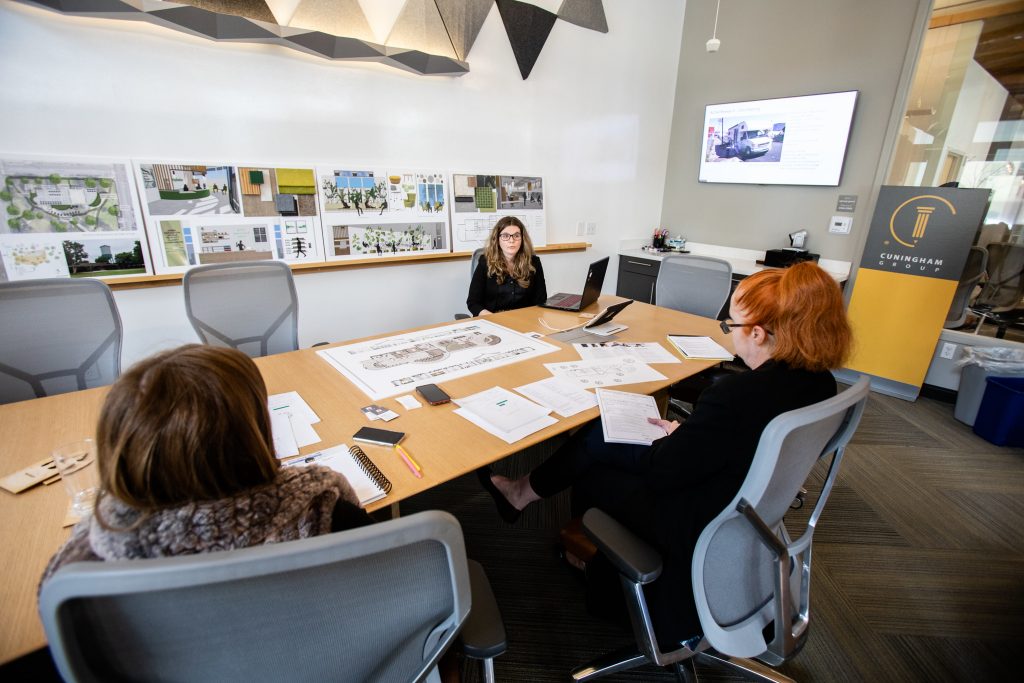 Did presenting to the judges feel different from presenting to guest judges in class?
Yes. When you are presenting to judges in class, you are not only presenting to them, but your instructor and fellow classmates. In the classroom, you tend to compare yourself to the other projects presented. 
Due to the nature of this event, you were not allowed to bring guests, and only come in during your time frame to leave space for the other contestants. What I liked about this format is it's only yourself and judges. You can't get into your head during the presentation, because there is nothing else to distract you.
Has this experience motivated you to consider entering more competitions? 
Yes! 
What other takeaways do you have from this experience and is there anything you might share with current or prospective students?
Find a topic that brings you interest, research through multiple outlets, and form your concept based on your evidence.
Photos provided by IIDA Socal, taken by Chris Hatcher Photography