DI student, Taylor Bonatus, takes second place at the IIDA So Cal Student Design Charette 2022
April 5, 2022 | DI In the News
Congratulations to Design Institute student, Taylor Bonatus, for taking second place at the IIDA So Cal student design charette 2022! Taylor and her four team members each won $1000 for their outstanding project.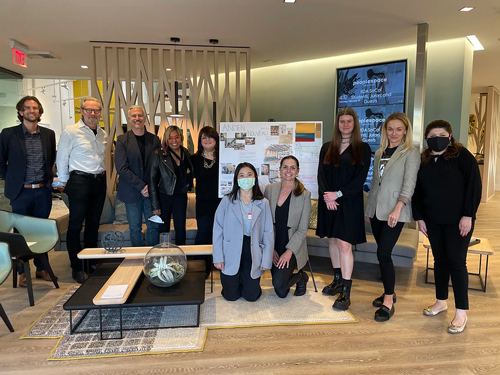 There were 31 students from design schools in southern California that were nominated to participate in this event. They were randomly divided into six teams, and all were given the task of developing the existing downtown LA Bradbury building for a client called Field and Supply. Each team had four and half hours to sketch and develop full design concepts and floor plans all by hand.
This really puts the group's design thinking, time management and collaboration to the test. After the time was up, the teams presented their projects to IIDA professionals. Out of the six teams that presented, four were called back for further evaluation. From there the top two teams were chosen.
We asked Taylor a few questions about her experience at the IIDA charrette competition.
What was the biggest challenge you faced?
The biggest challenge I faced was working with other people I had never met before. We did not have time to fully introduce ourselves and get to know what we each were like; it was straight to designing. It truly did test our personalities and you could see who was strongest and weakest during various aspects of the project.
What did you learn from that challenge?
I rose to be the leader of my group. My leadership skills were put to the test and shined through. I was assigning roles to others based on what they would be best at.
What class helped you the most to feel prepared for this?
Design Process helped me so much during this event. Design Process teaches you systematic ways to work through things to get an end result. In this situation, we had to design documents, concepts, floor plan and then present it all. It helped me feel structured in a very chaotic environment.
What was your favorite part?
My favorite part was meeting designers from schools all over. Everyone shared an aspirational goal of wanting to win and putting their best foot forward. Everyone's energy was so awesome and inspiring to be around. It felt great to be surrounded by designers who share the same passion as me.