9 Tips For Designing a Home Office
As working professionals and students have shifted to remote working, the importance of having a functional, comfortable home office has made itself clear. How do you get that perfect blend of function and beauty when designing a home office?
Today, we sat down with DI graduate, Tatiana Machado-Rosas, who is currently working as the Senior Interior Designer and Design Department Head for Jackson Design and Remodeling, to get her professional insights on making the most out of the spaces we've been working, playing, and quite frankly, doing everything in lately.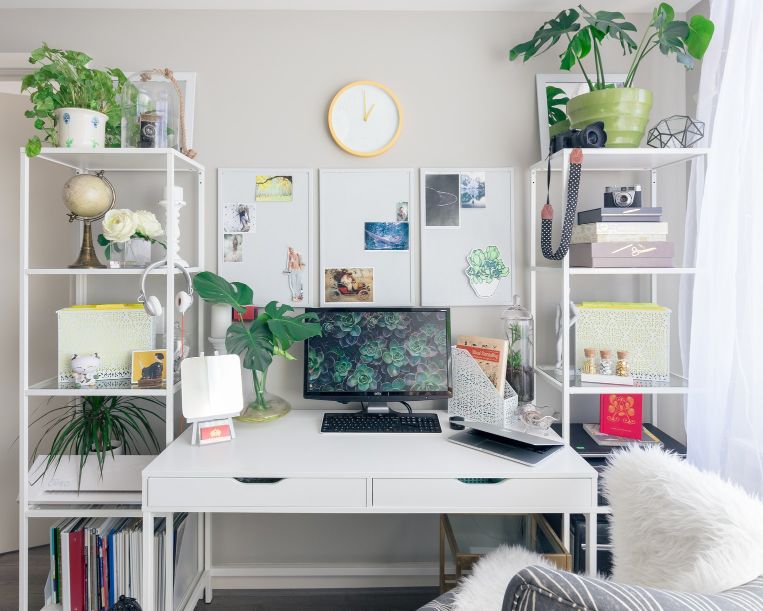 Tips For Designing a Home Office
Make Every Square Foot Count
While working from home didn't really make a comeback until the technological advances of the '80's, most modern living spaces—especially in metro areas, like Downtown San Diego or the neighborhoods surrounding Balboa Park—weren't designed to accommodate a shelter in place order.
When speaking with Tatiana about ways interior designers can use the pre-existing layouts of condos, apartments, townhomes, and other residential spaces, she advises:
"Depending on how small the space is, if there's a corner or wall space available in the home, you can create a home office with just a secretary desk if you mostly use a laptop for your interior design business. They are available in different sizes and styles to match a variety of different themes, from industrial chic to mid-century modern. You can adapt the dining table to extend plans and materials and have a bookshelf with baskets to put away the material samples when you are done, or set them on trays as well. The plans could be rolled and also stored in a taller basket. At the end of the workday, this type of desk allows you to close it and put away your work."
It's important for people now, more than ever, to find ways to decompress while social distancing. For spaces with a little more room, Tatiana recommends wall beds (also known as Murphy beds) that can transform into a home-office space area. "There are great designs available which combine the bed, storage and a desk area that disappears when the bed is pulled down, without disturbing the things kept on top of the desk. In the morning, you can put away the bed and your desk is ready for you to work."
Little Changes for Big Impact
Now that we've gone over ways to create a designated home office area in smaller residential homes, let's talk about some other adjustments that can be made to dramatically change the way a space looks, feels, and even sounds.
The Importance of Lighting
Because of its ability to change the mood and perceived size of a room, interior lighting is one of the most important aspects of any residential and commercial space.
While it can be tricky to choose the right type of lighting—and even the right placement—it's crucial to do so if you're looking to create a space filled with balance and harmony.
With that being said, there are a few different types of lighting that can be used to give a home office the brightness and balance it deserves.
Natural Daylight
The best option for lighting up your home office is through the use of natural daylight, because it not only creates ambient lighting but also distracts from the bluelight gleam of a computer screen.

"If possible, create your working space near a window where you can feel the connection with the outside, hopefully with a nice view or a view of your backyard," adds Tatiana.
Accent Lighting
Add drama and depth to any home office with a carefully selected accent light. If you've got a favorite houseplant, piece of art, or a textured brick wall, highlighting it with track lighting or wall-mounted picture lights are a great solution.
Because accent lighting is typically about three times brighter than a standard light fixture, these lights will drastically light up a home office as well as allow you to still celebrate the aesthetics of the room.
Task Lighting
A quick and simple way to improve the ambiance of a home office is with task lighting. Usually in the form of desk and floor lamps, or even pendant lights or under-cabinet lighting, task lighting is great for instantly brightening up a space and preventing eye strain.
Task lighting is available in a variety of different styles, from beach-themed to western, and everything in between. Try out a desk lamp with a sculptural base or a pop of color to add a fun feel to a workspace.
Ambient Lighting
Brighten up an entire room with the subtlety of ambient lighting. Designed to illuminate spaces comfortably, ambient lighting can be incorporated in the form of ceiling or wall-mounted fixtures, lanterns on a shelf, or even through recessed or track lighting.
Location, Location, Location
San Diego homes come in all shapes and sizes. Whether you're trying to transform an extra bedroom, den, or even a small corner of a kitchen into a home office, one of the most important parts of deciding on an area for a home office is the ability to create separation between work and other activities.
Tatiana notes, "Designating a specific area to work from home is important because it should allow you to be productive and focused. When you are done working at the end of the day, you should be able to leave your home office and transition into your personal life to rest and relax.

When deciding on a location to set up shop, it's important to consider the type of work that needs to be done in that space. What kind of work will this space need to accommodate?
If you need to sketch out physical blueprints and floor plans, you'll need an area that can accommodate a long table. If there's no space available, transforming a dining room into a multipurpose space will give you enough room to work while separating yourself from daily distractions.
Using Air Flow to Create Balance
The interior design choices you make can have a huge impact on indoor air quality. From the materials used in the creation of the fabrics and textures incorporated into a space to the layout of a room, specific decisions made during the design process transforms the way that people breathe in a space.
Say Hello to Your Newest Coworkers: Indoor Plants
Not only do plants instantly transform the aesthetics of a room, but they're also one way to improve the quality of a home's indoor air. Because plants reduce carbon dioxide levels, they are proven to increase workplace productivity by fifteen percent.
In the above study published by the University of Exeter, psychologists have also found that the warmth of the green leaves helps people feel more relaxed, thus increasing their health and happiness in a workspace.
Not only that, but plants can improve noise quality, too, as their soft leaves and branches can absorb sound.
Open Concept Design
When it comes to air flow, the concept of an open space is simple: air flow is increased because the air has more room to move around.
A home office with a lot of heavy furniture tightly packed together will create density, making it harder for air to circulate throughout the space. Instead, opt for lighter, more streamlined pieces that will encourage fresh air to flow freely throughout your office.
Declutter Your Workspace
Regardless of whether your home office is in a separate room, at the end of a hallway, or a corner of another room, clutter can make it difficult to focus.
Seeing that pile of clothes you were supposed to fold last night, toys that were left out, or even a pile of magazines and junk mail out of the corner of your eye can pull your focus and actually cause an increase in procrastination.
We know that for most humans, decluttering is no easy feat. But, even when tackled during a few minutes at the end of every day, you will begin to see changes in your space: the room will start looking bigger and more open, stress levels will lower, and it'll be easier to create a better boundary between home and work.
Balancing Work and Play
Working from home comes with its own challenges but balanced, intentional design can offer sustainable solutions.
At the Design Institute of San Diego, our passionate community of creative interior designers work on real-life projects and externships, creating inspiring spaces for work or play. We put our students first, giving them the space to create and collaborate to take design ideas and bring them to life. Let's change the world.

Tatiana Machado-Rosas (CKBD, Allied ASID, CGP, CAPS) is a graduate of Design Institute of San Diego. She currently works as a Senior Interior Designer and Design Department Head at the design and remodeling firm, Jackson Design and Remodeling.
---