Restaurant Design
By: Rick Hess/Mae Case, DI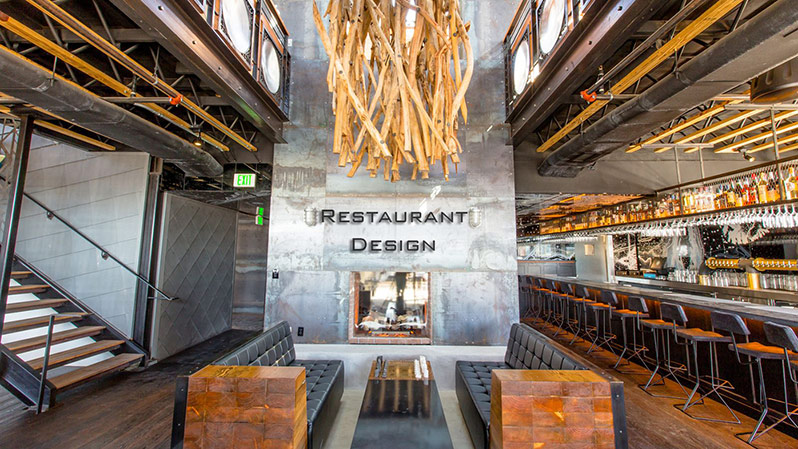 Kettner Exchange, Designed by PGALDining out is a centuries-old social ritual that has evolved with the times, but has yet to lose its appeal. The experience of treating yourself to a meal prepared expertly by someone else, amongst the company of your family or friends, in a space designed purely for your comfort and enjoyment is hard to match. Whether you're seeking a dimly-lit establishment or a night out with friends in a loud bar, there is a restaurant out there that offers the dining experience you're craving.
Designing a successful restaurant concept is similar to building a well-oiled machine. It's a space with reciprocal parts that should be constructed purposefully in order to run like clockwork. The kitchen (known as the Back of House) and the retail space/dining area (known as the Front of House), are influenced by each other and must work closely together to support a successful operation. Moreover, the décor of the space should entertain the diners and provide a memorable experience that entices them to return. Design Institute of San Diego explores several local eateries that have made a name for themselves thanks to their delicious cuisine and impeccable interior designs, several of which have been nominated for Orchid Awards in the San Diego Architectural Foundation's 2015 Orchids & Onions.
Restaurant Design Ideas
"The concept for Kettner Exchange was to create a social experience themed on William Kettner, late congressman from the early 1900's who brought character, kinship, and political cohesion to San Diego" – Blue Motif Architecture. This space offers a traditional dining option and a hip patio lounge/bar.  With the use of warm materials and unique textures, the interior design certainly brings out San Diego's flavor, and the architecture has been nominated for an Orchid Award.
Ballast Point Brewing and Spirits, located just off Miramar Road in San Diego has a striking tasting room equipped with 78 taps.  The lounge, communal bar and full-service dining offer plenty of different experiences for guests.  Natural wood elements and careful lighting divide the spaces while allowing natural light to make its way into each area.
Duck Foot Brewing Company is "a sleek wood, steel and concrete space designed by Jessica Dorf Kovarsky of Studio Aya with ComicCon-style murals by Wasak's childhood friends at Brooklyn design studio Madonna+Child. " – Studio Aya. The mural wall uses reclaimed wood and the Edison bulbs over the bar lends an industrial feel. The unique wall mural and well thought out design earned this interior a nomination for an Orchid Award this year.
Located in Little Italy, Juniper and Ivy is housed within a 90-year-old building.  The stylish and stunning interior features an "exhibition kitchen" where guests are treated to well-made cocktails and California cuisine.  The original warehouse reveals its history while holding a fresh new look within.
In many instances, the challenge of new dining establishments is to remain open past the first year. In well-populated cities, where there's an abundance of restaurants for diners to choose from, it's especially difficult to achieve that staying power. Diners don't just want to be fed; they also want to be entertained, and a successful restaurant will extensively research the habits and needs of its market before opening its doors to satisfy both objectives. The restaurants outlined above are excellent examples of eateries that have become hot spots because of the deliberate detail in the design. They provide memorable dining experiences unique to their spaces, and that is what keeps diners coming back for more.
Sources
http://www.eater.com/2014/3/3/6270595/look-inside-richard-blais-san-diego-debut-juniper-ivy
http://www.sdrs.com/?portfolio=juniper-ivy
http://92130magazine.com/2014/12/02/brewing-in-north-county/
http://sandiego.eater.com/2014/10/14/6975159/ballast-points-new-jaw-dropping-tasting-room-opens-in-miramar-today#4320538
---