LivingHomes C6
By: Rick Hess, DI
LivingHomes has introduced a new design for a prefabricated, affordable and sustainable home costing half the price of their previous models. The new C6 series was "designed by LivingHomes staff in collaboration with Make It Right, a nonprofit founded by Brad Pitt and architect William McDonough to build 150 affordable, sustainable homes in New Orleans' Lower Ninth Ward," according to their website. The C6 is the first LivingHome design to meet both Energy Star and LEED Platinum certification requirements.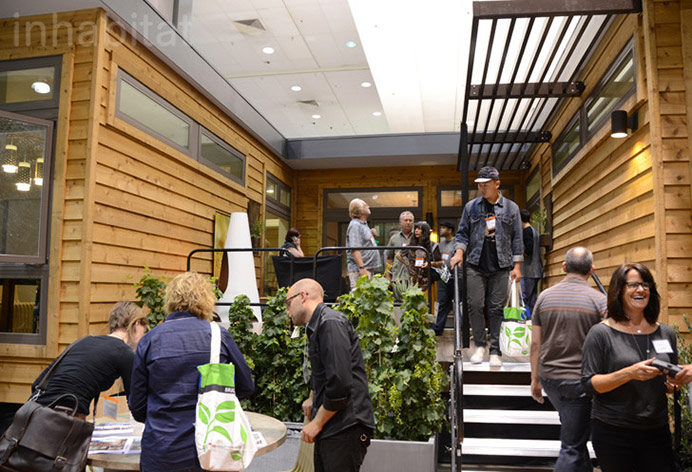 LivingHomes C6
This 1232-sf home can be fabricated in less than two months and installed on site in one day thanks to leading systems builder company Cavco. The spacious indoor/outdoor layout with a central courtyard was inspired by Joseph Eichler's influential housing designs built throughout California in the 50's and 60's.
Interior designers who worked on one of the C6 model art instillations focused on sustainably harvested furnishings, lighting and flooring. The designers included local Plumen low-energy light bulbs, hand crafted LED lighting, bar stools made with 80% recycled aluminum, and area rugs made from recycled plastic. The deck flooring was also recycled and the wood furnishings were all created from repurposed material.
LivingHomes has a reputation for providing dwellings that are as green as possible. Zero emissions, zero waste along with zero carbon make up the sustainable components of the C6 design. Low flow water systems, optional photovoltaic panels providing as much as 100% of the homes' power, and recycled products allow this home to be a leader in the effort to provide green and sustainable design solutions for the future.
Find out more about LivingHomes.
Sources
http://www.archdaily.com/211032/livinghomes-c6-affordable-sustainable-and-prefabricated/
http://www.taylordecordoba.com/2013/07/dwell-on-design/
http://www.livinghomes.net/thdlivinghome/tour.htm
http://www.livinghomes.net/C6/
https://www.flickr.com/photos/inhabitat/7438623806/
---