Inspiration in Unlikely Places
By: Lisa Schattman, DI Librarian
What goes into a successful interior design project? Certainly knowledge is crucial: knowledge of space planning, human behavior, client needs and wishes, building codes and systems, textiles and other materials, furniture, the basic elements of design, color, lighting, energy efficiency and other issues of sustainability, historical styles, current trends, and much more inform a design solution. As you might expect, the DI Library at Design Institute of San Diego supports our students by providing information in all of the areas they need to craft residential, commercial and institutional spaces.
Inspiration in Unlikely Places
Designers need to be able to relate to their clients, to understand the things that are important to their clients, to identify and articulate what matters in a space, to learn new things, and to navigate a global and interconnected world. To support our students in these areas, the DI Library provides information about psychology, communication, anthropology, world history and literature, geography, environmental science, mythology, and philosophy, as well as art, architecture and design through the ages.
Finally, designers need inspiration.
They need a spark that transforms a workable solution into an inspired solution. And since inspiration often comes from unexpected places, the DI Library actively collects a wide range of books, magazines, films and online resources. Literature, mythology and religion have inspired great art, architecture, and design for millennia, and they continue to do so today.
Another endless source of inspiration is nature.
From the cosmos to microcosms, from seeds to landforms visible from space, from snowflakes to desert dunes, inspiration is all around us. A designer might draw a color scheme from a variegated flower, or base a textile pattern on a magnified image of nerve cells. Like professionals in fields ranging from biotechnology to financial services, designers turn to nature for solutions to common problems such as staying cool, coordinating disparate parts, distributing resources, creating a strong physical structure, generating energy, and more. Advances in this field, called biomimicry, have led to better water filters, medical adhesives, hiking boots, roofing tiles, paints, and sustainable buildings.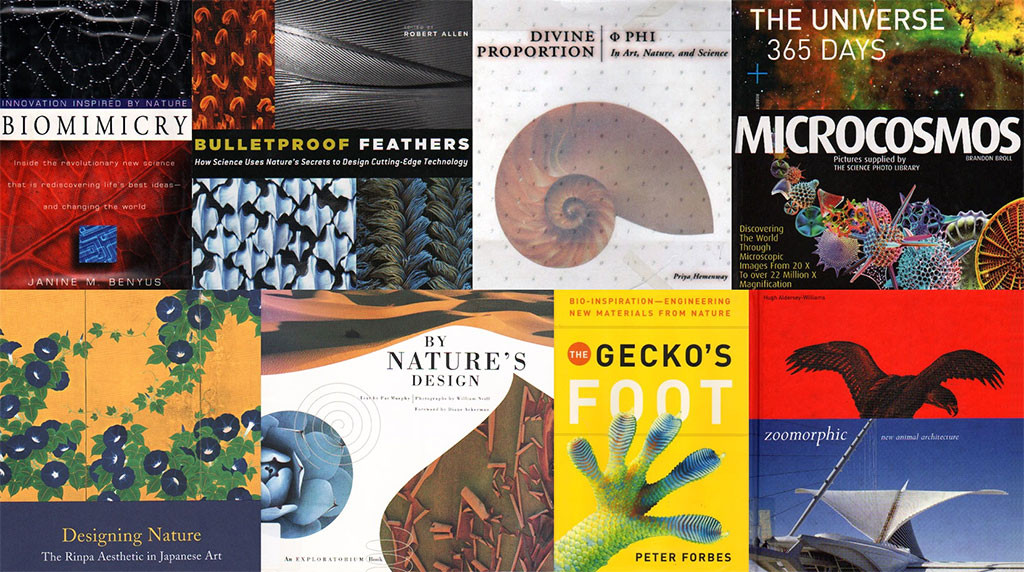 And then, of course, there are the myriad of objects created by humans. Maps, dishes, pasta, sand castles, letters and words, fairy fashion… any of these might spark a designer's next big idea.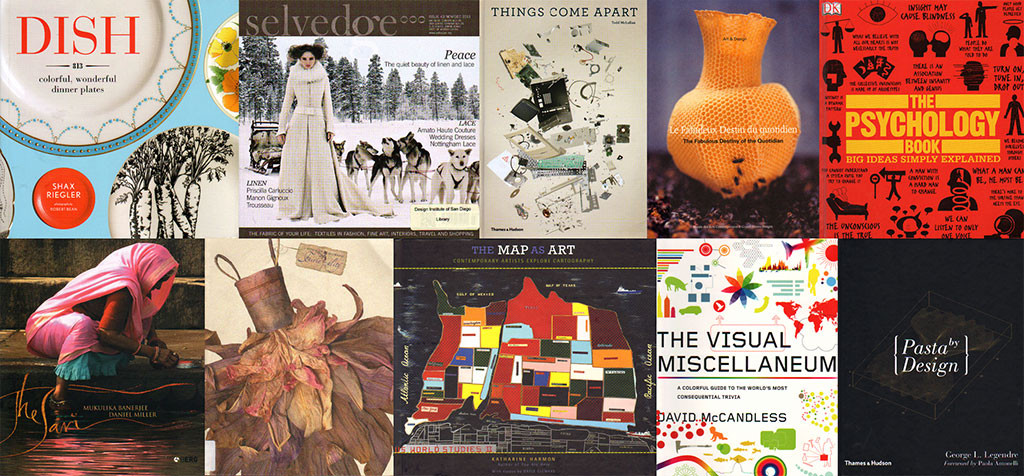 I am grateful to live in a time when all of us can read more books, listen to more music, and see more art, both in person and online, than most people who lived in centuries past. So much is available for free online that it's easy to forget how much human knowledge and created work isn't, and when every internet search yields hundreds of thousands of results, expert search and evaluation skills are key. Designers looking for inspiration need to come across the unexpected, and that's a tough thing to search for! When a quick online search isn't enough, the DI Library has you covered.
---