Holiday Gift Ideas for Designers: Students' Choice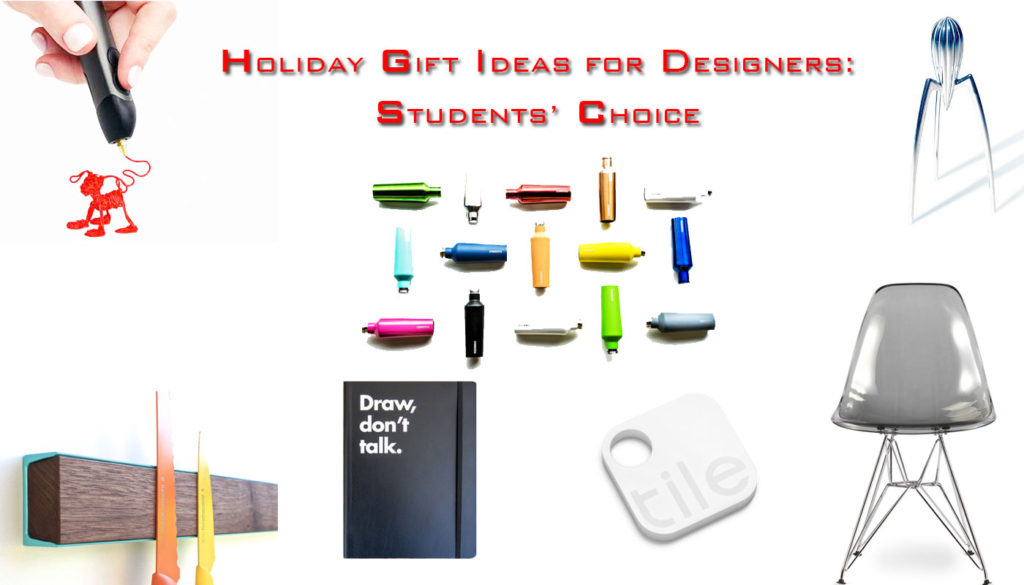 Creative types are often the hardest people to shop for. Already known for their discerning taste, trying to impress the design lover in your life can be quite the challenge. To put your mind at ease, we took the guesswork out of the equation by asking Design Institute of San Diego's interior design students what they'd like to have wrapped up for them this holiday season.  We've comprised a list of unique gifts for creative individuals, and for anyone else that appreciates great design.
Holiday Gift Ideas for Designers
Keep those creative juices flowing with the new 3Doodler, which allows you to draw any 3D model your brain can visualize with just the push of a button.
Interior designers, architects and artists are constantly in a rush and may tend to misplace things quite often.  Tile is a Bluetooth solution to keep track of any of your items, finding them instantly with your smart phone.  The best thing about Tile is that it's only $25!
Do you have a cool poster that is just rolled up in your closet?  Stiicks are well designed poster frames that use magnets to frame your art.  They are lightweight, come in a variety of finishes and sizes, and are super easy to install.  They can support up to 20 pounds and are only $20 to purchase.
Who doesn't like to rock out during the holidays?  Koostick makes audio players designed for iPhone and iPad users.  These well-crafted stands have already received international recognition for being hand crafted in America and are a great gift idea!
Have a friend who is always in the kitchen?  These magnetic knife holders with beautiful wood finishes are available on Amazon. There are a variety of styles to choose from.
Corkcicle has introduced a canteen for those that want to keep their coolers at home.  These containers keep drinks cold for up to 25 hours!  Grab one for less than $20 on their website.
Our design students are constantly on the go, and their caffeinated beverages should be as well. If you want your coffee on the go then Minipresso should be on your gift list.  Weighing in at just 0.8 pounds, this small container is the perfect way to stay energized no matter where you are.
Most interior designers, architects and artistic appreciate a good chair.  You can now buy a replica of the iconic Charles Eames Polycarbonate Chair for less than $100.  This chair has proven itself to be timeless and can modernize any dwelling.
These top gift choices are not only stylish and modern – they are surprisingly affordable as well.  From kitchen gadgets to home décor and even design tools for the creative student, you're bound to find something to satisfy any individual drawn to great design this holiday season.
Sources
https://thoughtbot.com/work/tile
http://futurezone.at/produkte/3doodler-2-0-ausprobiert-vom-wachsstift-zum-fineliner/107.034.415
https://corkcicle.com/collections/hydration
https://www.amazon.com/Powerful-Magnetic-Wooden-Unique-Walnut/dp/B01E1SV07S
https://www.cnet.com/news/minipresso-hot-fresh-espresso-on-the-go/
---