Design Tips for your In-Home Gym
Recently, many fitness and wellness centers closed in an effort to minimize the spread of COVID-19, leading to the rise in demand for in-home gym equipment. Will it last? According to a comprehensive survey conducted by the company Beach Body, 75% of people who work out three times a week and nine out of 10 Americans who exercise plan to continue with home workouts after gyms reopen. Out of 1,000 Americans who exercise regularly, 90% described their workout at home as effective and 66% described it as extremely effective (King, 2020). The home workout trend will continue as fitness centers slowly reopen. In my 30-year experience as a fitness professional, I've noticed a decrease in gym attendance after initial reopening and amplified support on social media for in-home fitness.
Design Tips for your In-Home Gym
Tip 1: Create a workout zone
How do you select the perfect space for the in-home gym? First, locate the largest amount of space in your home. According to Sherman et al. (2015) "Cramped rooms will cramp your motivation." In a living room, for example, put wheels on furniture to help create a workout zone. Once you select a space, begin to declutter items unnecessary to your home workout. The study also found that clutter negatively impacts motivation. Stress is experienced when "perceived demands are greater than perceived resources." Researchers claim the attention commanded by a basket full of clothes or stack of messy paperwork waiting to be filed pulls focus from the workout.
Tip 2: Selecting the right gym equipment
The square-footage of the spare room determines the size and amount of equipment in the at-home gym. A well-balanced fitness routine includes cardiovascular, strength, and stretching/balance training. For small spaces, consider wall-mounted storage for resistance bands, jump ropes, and elastic yoga straps.
Required square footage for common equipment:
| | |
| --- | --- |
| Treadmill | 30 square feet |
| Elliptical trainer | 30 square feet |
| Free weights | 20-50 square feet |
| Stationary bike | 10 square feet |
| Stair climber | 10-20 square feet |
| Single station gym | 35 square feet |
| Multi station gym | 50 –200 square feet |
Note: American council on exercise (1,2009) Home gym design: How to design a home gym
Single station gym equipment refers to machines designed specifically for one exercise or body part. Multi station gym equipment is designed for many different exercises to be performed on the same machine.
Investment in equipment
Equipment price guide:
| | |
| --- | --- |
| Stationary bike | $150 to $3500 |
| Elliptical trainer | $300 to $1,000 |
| Treadmill | $350 to $1,000 |
| Single station gym/ multiple station gym | $200 to $2,000 |
| Free-weights | $7 to $40 each pair |
| Stair climber | $100 to $700 |
Note: Adapted from Harvard Health Publications (2016)
Tip 3: Train virtual classes
The digital age has brought us streamed on-demand workouts on phones, tablets, and smart TV's. COVID-19 shutdown gyms across the nation, leaving former gym-rats to move their fitness online. Users can take virtual classes with world class instructors at any time in the comfort and convenience of home. For example, the company Peloton brings boutique fitness into the home. Boutique fitness centers are small gyms (800 to 3500 square feet) offering one or two specialized group exercise classes, like indoor cycling or Yoga. Peloton digitizes this experience, selling a high-end indoor cycling bike and $39.00 monthly subscription providing access to classes with top instructors. (King, R., 2020)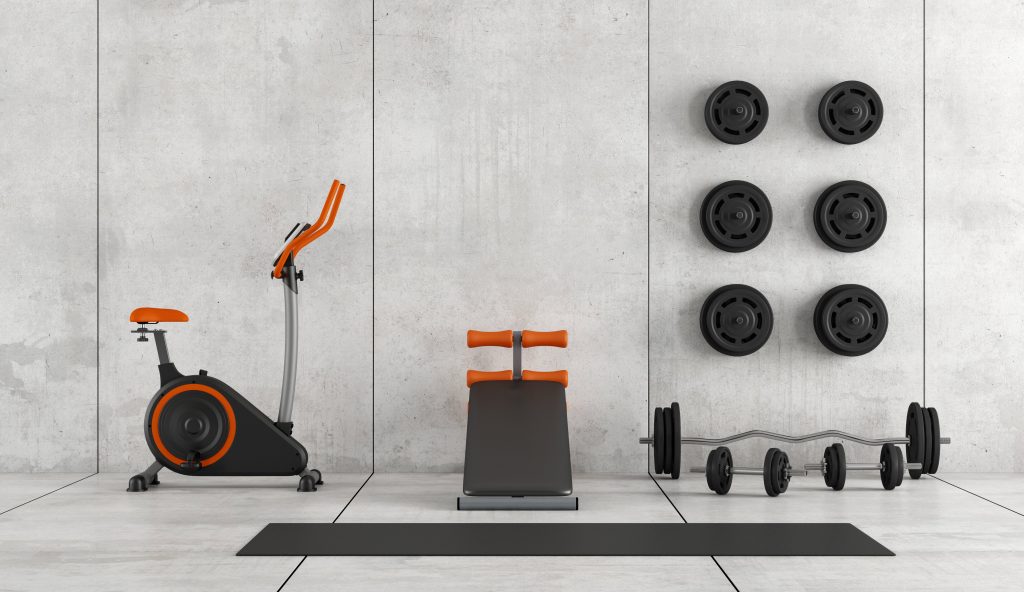 Tip 4: Choosing the right lighting
Any natural light can benefit the feeling of a home workout. "Natural light energizes and stimulates a number of positive chemical changes in the brain that lift a person's mood and produce a greater sense of calm," says Sherman et al. (2015). A LED light strip can change the mood and feel of your home workout space in the evening or during the day with black-out draperies.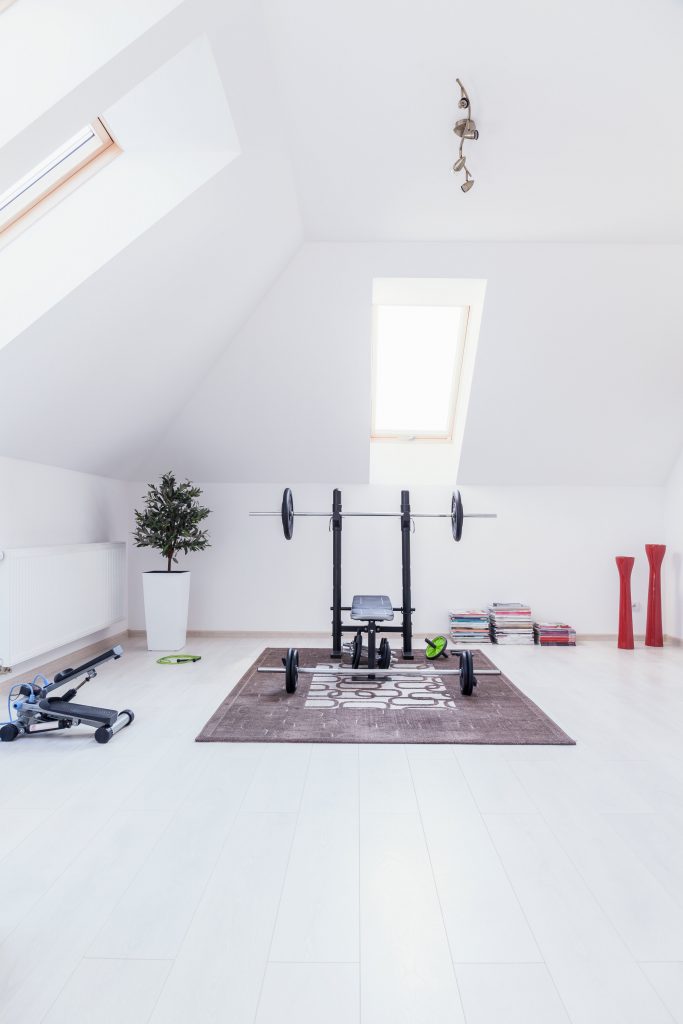 Tip 5: Selecting color & decorative items
Bright white feels clean and awakening, but is not ideal for indoor cycling, which favors darker colors. As a professional interior designer, I recommend using colors to inspire consistency and personal motivation. If the room is your least favorite color, your workout might suffer. Active, bright colors are best. As shown in figure 3, this gym owner uses race metals as a beautiful display of accomplishments, the reward for consistent training motivates the next training run. Many home gyms pictured on social media showcase an inspirational quote to motivate the workout and one mirrored accent wall is featured to view proper execution of exercises and catch a glimpse of the workouts results.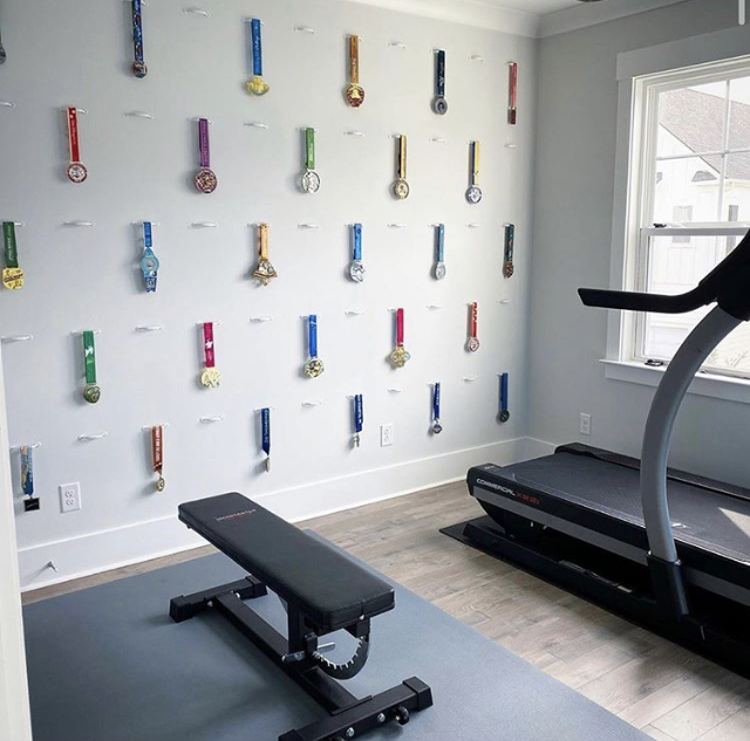 Are home gyms here to stay and will attendance at fitness locations continue to see a decline? Only time will tell. As you can see utilizing these design tips to create your in-home gym will help to create and maintain healthy and consistent workout habits during and after the pandemic. An investment into your health is always wise and now is a good time to commit to creating a workout space that will support your goals for the future.
Design Institute of San Diego is devoted to design and educating future designers who consider the health and wellbeing of their clients. Need help locating an interior designer who can turn your dream of a home gym into a reality? Have you created an incredible home gym and found you have a passion for interior design? Visit www.disd.edu for more information.

Shawndee Yenche, Allied ASID, MID student at Design Institute of San Diego:
BFA Graduate of Design Institute of San Diego May 2007. Designer at A Design Group (2008) with 25 years' experience in Fitness and Wellness as a Group Fitness Instructor, Personal Trainer, Group Fitness Manager, as well as a Medical Integration Nutritionist.
---